FirstNet and internet connectivity when and where it's needed
The CRD™ for FirstNet® is a deployable FirstNet cell tower and internet access point. It generates an area of FirstNet cellular, wired Internet and wi-fi coverage, anytime and anywhere. Your very own Cell-On-Wheels (COW) can be deployed by a single person within minutes, when and where it's needed!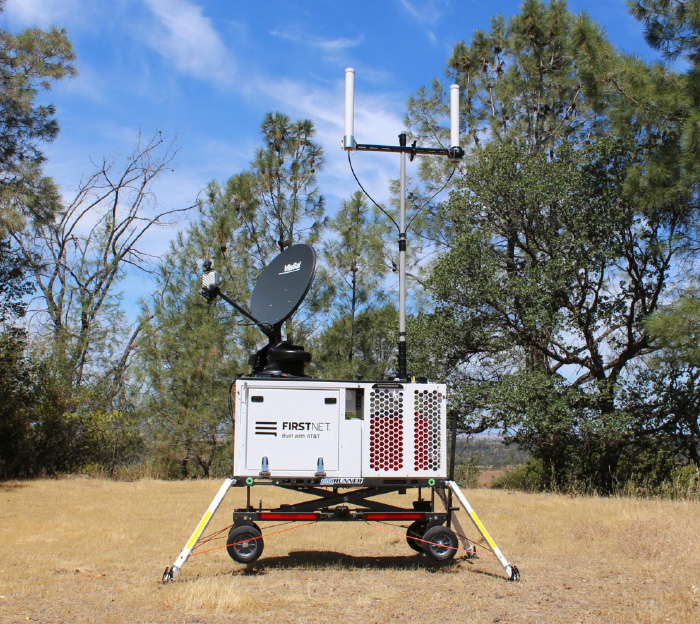 FirstNet cellular range up to 2 miles
Wi-Fi range up to 500'
High-speed satellite internet1
Power Class 1 HPUE connectivity
FirstNet Ready® router
60-hour generator run time before refueling
Rapid deployable, single person set-up in 15 minutes or less
Rolls through standard ADA doorways
Weatherproof and NEMA 4 compliant
Deliverable by SUV, truck, or trailer
Base Price $77,995
Free freight shipping within the Contiguous US2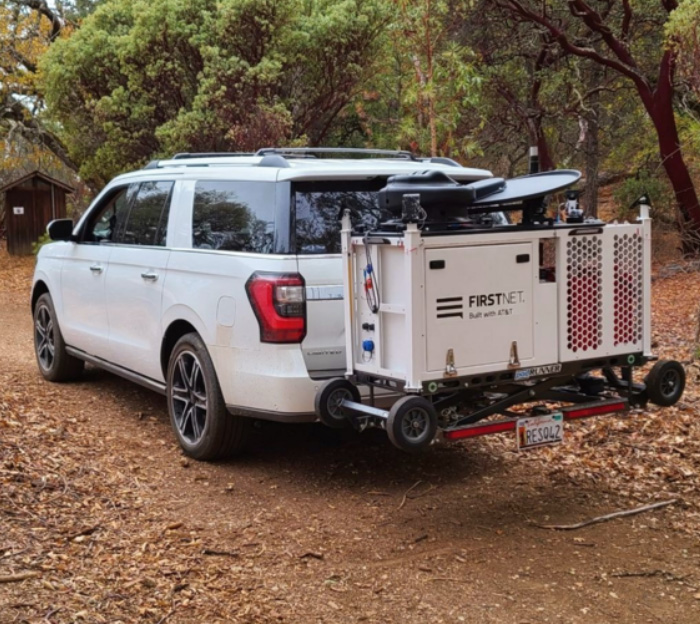 CRD™ for FirstNet® can help you respond to a wide range of situations, such as:
Hurricane response and recovery
Wildland fire response
Business continuity during natural disasters or service interruption
Search and rescue
Event management (marathons, remote events)
Anywhere FirstNet cellular and Internet service are needed
The CRD™ for FirstNet® includes the following components:
Frequently Asked Questions (FAQ)
What kind of vehicle is required to transport a CRD?
Any vehicle equipped with a Class III (3), Class IV (4) or Class V (5) trailer hitch rated for at least 600 pounds of tongue weight. Requires a 2" square hitch receiver to install the CRD hitch adapter that connects the CRD to the vehicle.
How many cellular users can be supported at one time?
The CRD for FirstNet can support up to 64 Simultaneous LTE Users at one time, using a typical satellite connection. If the FirstNet CRD is provided with high-speed ethernet or fiber, it can support up to 600 simultaneous FirstNet users.
How long can the CRD run while off the grid?
The CRD can run continuously for 60 hours on one tank of gas. It can run up to 240 hours off-grid before re-fueling when power cycling between the generator and re-chargeable battery.
Will the unit work in all weather conditions?
Yes, with the provided guying kit for windy weather, and the lightning ground kit, the CRD will perform in all weather conditions. Although internet speeds can change depending on climate conditions and terrain, the heated and air-conditioned CRD has proven to work through wind, rain, sun, and snow.
With all the electrical and computer components included, is the CRD easy to use?
Yes, setup is simple and can be accomplished within 15 minutes. Turning on the CRD requires pushing just 3 buttons. Multiple User Guides are provided for step-by-step setup, as well as an Owner's Manual and Inventory Sheets for all included components. However, because the CRD does contain computer equipment, it is recommended to have an IT specialist on staff become familiar with the CRD for simple troubleshooting and user questions.
How does the satellite data plan for the CRD work?
The customer will need to purchase a High-Speed First Responder Priority ViaSat® data plan through Expedition Communications. Information on these data plans can be found in the Product Brief.
Can I bill satellite data usage directly to an incident?
Yes. Expedition Communications can work with you to charge data used in a cost recoverable incident directly to the incident, so you don't have a negative impact on your budget.
Will my satellite data slow down when everyone else puts up their satellite dishes?
Multiple-user slowdown typically occurs with the old Ku-Band satellite systems (it's called "contention"), but that doesn't apply to the modern Ka-Band ViaSat® "First Responder Priority" Plans and modern satellite spot-beam technology. Your data rate is always at full speed and has priority on the satellite over all other users, except for certain government use. You will get high speed internet and cell service even in the middle of a major incident. And you don't have to pay extra for it.
Can I use the CRD to restore high-speed internet to a building, command trailer, incident command post (ICP), public safety answering point (PSAP) or emergency communications center (ECC)?
Yes. Simply set up the CRD in the parking lot (or put the removable satellite dish on the roof), run an ethernet cable (supplied) from the CRD into the building and plug it into your router/switch where your normal ISP cable plugs in. The CRD also produces a Wi-Fi Hotspot out to several hundred feet. You can view a short video at Instructional Videos | The PodRunner
1 Satellite data plan purchased separately from Expedition Communications.
2 Additional shipping charges apply when shipped outside of the contiguous United States.
FirstNet and FirstNet logo are registered trademarks of the First Responder Network Authority. CRD is a registered trademark of Rescue 42, Inc. ViaSat® is a Registered Trademark of ViaSat, Inc.