FirstNet: Supporting public safety
FirstNet® is the nationwide, communications platform built with and for America's first responders and public safety community. Learn more
What is the Response Operations Group?
With FirstNet, you have access to the Response Operations Group (ROG) — a dedicated team of former first responders always ready to support you. ROG assists in deploying more than 150 dedicated deployable assets – including Satellite Cells on Light Trucks and Satellite Cells on Wheels. These are mobile cell sites that link to FirstNet via satellite. They don't rely on commercial power availability. And they provide first responders with connectivity capabilities much like a cell tower.
It doesn't stop there though. During emergent, urgent or planned events or incidents, ROG helps you:
 Restore a fiber cut quickly
 Place backup generation at macro sites
 Improve in-building coverage
 Provision devices quickly
 Cover up to 100 square miles of area with FirstNet One, our connected blimp
 And much more
Watch now
Expanded coverage when disaster strikes

100+ Cell on Wheels (COWs) and heavy-duty Satellite Cell on Light Trucks (SatCOLTs) can keep you connected while you support first responders and restore power grids/water supplies.

Connected where it counts

The Response Operations Group is directly linked to State Emergency Operations Centers (EOCs) across the country and embeds within EOCs during disasters, serving as a public safety asset within the appropriate emergency support functions. 

975+ asset support requests

In 2021, public safety made more than 975 asset support requests. And in 2020, public safety made 750+ asset support requests to support planned and emergency events, covering everything from drive-thru COVID-19 testing sites, hurricanes and wildfires.

Unique in the industry

We give public safety agencies a level of support during emergencies and planned events that's far beyond anything you've ever seen. Our focus is on serving as public safety's true network partner to help first responders stay connected and operate faster, safer and more effectively when every second counts.

ROG the Dog

This fleet of more than 30 trained Labradoodles specialize in animal- assisted therapy for first responders. Agencies on FirstNet can request a therapy dog in the same way they request a network asset. The dogs are available at no additional charge. 
Public safety agencies subscribing to FirstNet have access to a dedicated, nationwide fleet of:
150+ deployable network assets

Public safety agencies have access to a nationwide, dedicated fleet of over 150+ land-based and airborne portable cell sites.

Communications Vehicles (CVs)​

In addition to providing connectivity via LTE and/or Wi-Fi, CVs provide an air-conditioned command space for 2 first responder communications personnel with multiple monitors, charging stations, a large exterior screen and speakers for briefings and so much more. ​

Aerostat

A first-of-its-kind public safety communications solution – is designed to help keep responders connected during large-scale, catastrophic events.​
All at no additional charge. Public safety agencies on FirstNet can request the equipment for added support during disasters. The deployable network assets are designed to keep FirstNet subscribers connected to the information they need, no matter where their mission takes them – allowing first responders to make rescues, communicate and coordinate their emergency response, or aid in recovery, even in the hardest hit areas or most remote parts of the country.
How to request ROG assistance
Request via consultant

Contact your FirstNet solution consultant

Request via online

Request on FirstNet Central

Request via phone

Call FirstNet care 1-800-574-7000
Say "Deployable" when prompted.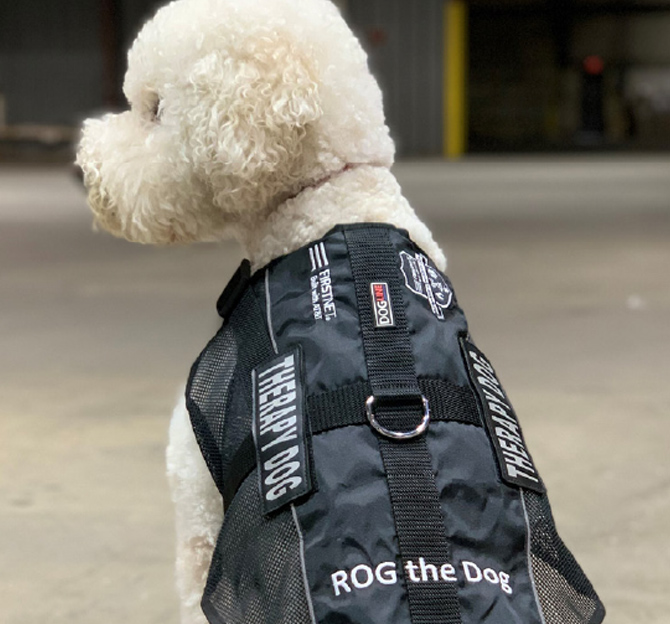 ROG the Dog, the FirstNet therapy dog
Animal-assisted therapy for first responders:
Has a positive impact on mental and physical health
Improves coping and recovery from critical events
Enhances morale in departments
Decreases emotional distress and anxiety
Reduces the negative impacts from Post-Traumatic Stress (PTS)
Learn more
When disaster strikes FirstNet is there to help
FirstNet, Built with AT&T is expanding public safety's dedicated fleet of deployables. These new vehicles will help first responders stay mission-ready and better protect their communities.
Watch now
We understand your planned event needs
FirstNet was ready for the Final Four at the Alamodome to help provide additional coverage and communications technology for San Antonio agencies. 
Watch now
Tools you need to get the job done
Selecting the right tools, at the right time. Whether you're interested in FirstNet for yourself or for your organization, we'll develop a solution that meets your unique needs. Apply today and we'll develop a solution that meets your unique needs.

Learn more about special offers for individuals or for your organization.
See how other responders are using FirstNet

Subscribe to the FirstNet Newsletter today!
By clicking Submit, you consent to AT&ampT sending you email about FirstNet services at the address you provide, even if you have previously opted out of receiving AT&ampT marketing emails.
By clicking Submit, you consent to AT&ampT sending you email about FirstNet services at the address you provide, even if you have previously opted out of receiving AT&ampT marketing emails.